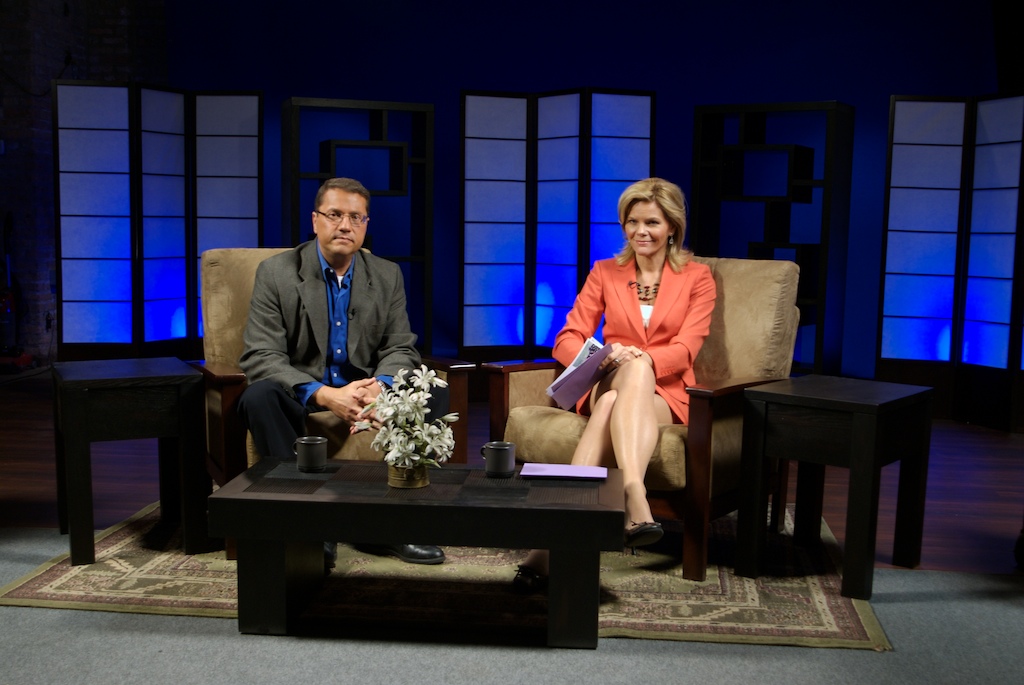 WILLIAM:
I'm William. The holidays are a happy time but the preparation for celebrating can sometimes be a very bleak time filled with unforeseeable depression. There are foods you can eat to help with your depression.
Elizabeth Somer is with us, she is a dietician and the author of Food and Mood. Elizabeth, please help. What can we eat that will help temper our moods?
ELIZABETH:
You know it is interesting because often we feel the worst we also eat at our worst and it just causes sort of a vicious cycle. But there are things you can do. For instance, don't skip meals - big mistake. People that skip meals are much more likely to battle mood problems later in the day, uncontrollable eating binges that just accent the mood problem. So even if you are going to a party tonight, have something light in the morning. And I'm not talking a donut and a cup of coffee, but maybe a bowl of whole grain cereal with a little bit of milk and a piece of fruit, and then eat regularly throughout the day. To keep, not only your blood sugar levels high, but also the fuel for your brain high. And then there are certain foods that will boost your mood. If your mood is down because a chemical in the brain called serotonin is low, that's usually when people are depressed. You can boost serotonin levels with an all carb snack. So say mid-afternoon you start craving something, have a bowl of air popped popcorn or half an English muffin with a little bit of honey drizzled over the top, or cinnamon raisin bagel with a little bit of jam on it. That will actually boost serotonin levels and might help your mood a little bit.
WILLIAM:
I think that anytime you can eat a carb you are going to feel happier. Until you feel worse! Can you crash from a carb?
ELIZABETH:
Well, if you are eating a platter, that's a whole different thing and that is a binge. It doesn't take a lot of carbs to get that serotonin boost so you know it is a couple of cups of popcorn, air-popped, not buttered. Not the entire bag. And there are other things you can do, we know from a lot of research that the Omega 3 fatty acids that you have heard about that are in fish, not only lower your risk for heart disease but also boost those serotonin levels and improve mood and even thinking ability. So if you can have a little bit of salmon several times a week that's great, but you can't afford a lot of salmon or you don't like fish or whatever, then look for foods that are fortified with what's called DHA. That's the Omega 3 DHA that will help boost your mood and your memory. You can find it in a variety of foods such as eggs, walnuts, milk and fruit juice ....
WILLIAM:
Now when you consume it, how much do you have to really feel a kind of lightness of mood?
ELIZABETH:
Well with the DHA it's going to be over the long haul, so just start eating, include at least 200 mg of that DHA in your daily diet and you will notice over the course of weeks that your mood isn't falling as deep as it normally would.
WILLIAM:
Oh, that's fantastic.
ELIZABETH:
The effect that you get with a carbs you actually get immediately, like within an hour of having that air-popped popcorn, you may see a boost in your mood because it has a direct effect immediately on serotonin whereas the Omega 3 has more of a long term effect.
WILLIAM:
Now you can take Omega 3 or maybe even DHA as a vitamin or as a supplement, right?
ELIZABETH:
Yes, as a supplement.
WILLIAM:
Oh, I got it. Thank you very much.