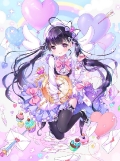 Time : 2015-11-09 20:47:46
Dear Alice,


I'm so excited when I read your interesting letter about your beloved city. Via your letter,I can imagine the scenery of Manchester in front of my eyes. And now, let me tell you about where I was born and grew up.


Unlike you, I live in a lovely village which is near a small river and beside a green hill. The weather is cool, fine and it has four seasons, too. I always look forward to the spring, it's the most beautiful season and our village holds a variety of festivals such as: spring festival, buffalo fighting festival, ect...


At the entrance to my village is a small bamboo forest and there is a huge banyan near the river, too. The children in my village and I always go there and play many exciting traditional games. Late in the evening, we go fishing and fly kites together. My village is covered by a fresh and pure atmosphere and we can enjoy not only fresh but also delicious food.


If you have a chance to visit my village, you can try a special dish of my village, it is " Banh Rang Bua". You can't imagine how tasty it is! Moreover, you can't skip a famous place of my village: Dinh Trung temple with a lot of nice scenery. If you go there, I can make sure that you will have an incredible time.


I want to tell you more and more, but it's time I prepared for my lessons tomorrow.


Goodbye, Alice, have a nice day. Remember to write me soon.


Best regards,


Ngoc



















Nhận xét của giáo viên :
Dear Alice,
I'm was so excited when I read your interesting letter about your beloved city. Via your letter,I can imagine the scenery of Manchester in front of my eyes. And now, let me tell you about where I was born and grew up.
Unlike you, I live in a lovely village which is near a small river and beside a green hill. The weather is cool, fine and it has four seasons, too. I always look forward to the spring, it's the most beautiful season and our village holds a variety of festivals such as: spring festival, buffalo fighting festival, ect...
At the entrance to my village, there is a small bamboo forest and there is a huge banyan near the river, too. The children in my village and I always go there and play many exciting traditional games. Late in the evening, we go fishing and fly kites together. My village is covered by with a fresh and pure atmosphere and we can enjoy not only fresh but also delicious food.
If you have a chance to visit my village, you can try a special dish of my village, it is " Banh Rang Bua". You can't imagine how tasty it is! Moreover, you can't skip a famous place of my village: Dinh Trung temple with a lot of nice scenery. If you go there, I can make sure that you will have an incredible time.
I want to tell you more and more, but it's time I prepared for my lessons tomorrow.
Goodbye, Alice, have a nice day. Remember to write me soon.
Best regards,


Ngoc
Bài viết tốt, cấu trúc và từ vựng phong phú, e lưu ý 1 vài lỗi nhỏ và tiếp tục phát huy nhé.