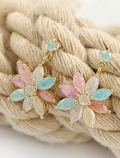 Time : 2020-03-17 22:42:30
Dear Ms. James Grant,

Thank you for notifying me that you will be hosting your graduation party. The party will be held on Saturday night and it will be unavoidable the noise. Actually, I appreciate your awareness of this problem and I thank you for informing me.

In fact, I would like to tell you that I often visit my home on Friday afternoon and come back on Sunday night so you do not have to worry about making noise for my family.

Thank you for your kind invitation to visit your house. Indeed, you and I are neighborhood, therefore, I will come to your house when I am free. I hope that we will have lots of fun stories to tell each other.

Finally, I congratulate you for completing the Bradford Union School. I wish all the good luck for future endeavors. I hope you have a nice party with your friend. Wish you will have a cozy party and full of laughter.

Best regards,
Ms Kelly
Nhận xét của giáo viên :
Dear Ms. James Grant,

Thank you for notifying me that you will be hosting your graduation party. The party will be held on Saturday night and it will be unavoidable the noise bạn dùng tính từ thì không thể dùng danh từ làm tân ngữ ở câu sau, bạn có thể diễn đạt the noise will be unavoidable. Actually, I appreciate your awareness of this problem and I thank you for informing me.

In fact, I would like to tell you that I often visit my home on Friday afternoon and come back on Sunday night so you do not have to worry about making noise for my family.

Thank you for your kind invitation to visit your house. Indeed, you and I are neighborhood, therefore, I will come to your house when I am free. I hope that we will have lots of fun stories to tell each other.

Finally, I congratulate you for on (giới từ đi với congratulate) completing the Bradford Union School. I wish all the good luck for future endeavors. I hope you have a nice party with your friends and your rellatives. Wish you will have lùi thì trong câu ao ước a cozy party and with (dùng cụm giới từ, nếu dùng and thì không tương quan từ loại, nghĩa) full of laughter.

Best regards,
Ms Kelly
Nhìn chung, bạn giải quyết vấn đề khá hợp lý. Tuy nhiên, bạn nên chú ý hơn đến các chi tiết của bữa tiệc để bài viết phong phú hơn nữa. Bạn cũng hãy chú ý đến ngữ pháp nhé.