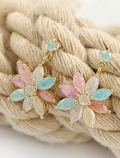 Time : 2018-12-11 01:13:57
Dear Mr. Ravi Menon,

I would like to thank you for informing us about the quality of the service and the food we supplied at our restaurant. I deeply apologize for the inconvenience you have been suffered.

Unfortunately, I did not meet your expectations. After analyzing the issue and conducting several internal reviews, I found that the issue originated from key staff changes. The waiter, who you mentioned on the previous letter, is a new waiter. He has not been studied skill. I think this is the first time I have had the problem, so I hope there will be a sympathy from you. And I will take him to train course and I hope he will do better service in the further. On his behalf, I sincerely apologize to you.

Also, I promise you that I will try to fix our management. Because of our loosen control, our staff is impolite with customers. Since then, I will reform whole our restaurant especial as our service.

To be honest, I know this is a heavy mistake which cannot be accepted for restaurant business. Actually, that day, the chef of the our restaurant did not work because he was ill, so that the other chef have been replaced for him. He worked hard but did not have much experience to deal with jobs of the kitchen. I am sorry about this.

To express my apology, I have the honor of inviting you and your family to come our restaurant for dinner at any time which is convenient to you. I will give a free dinner coupon a for you and your family enclosed this letter – it is our sincere apology and caring for you

Thank for your comments. I am very happy when you come back on next time. I believe that you will be pleasant with our change.

Kind regards,
Lee Tran(the manager of the restaurant)
Nhận xét của giáo viên :
Dear Mr. Ravi Menon,

I would like to thank you for informing us about the quality of the service and the food we supplied at our restaurant. I deeply apologize for the inconvenience you have been suffered.hành động đã xảy ra và hoàn tất trong quá khứ nên dùng quá khứ đơn

Unfortunately, I did not meet your expectations có thể dùng mệnh đề quan hệ để làm rõ hơn sự mong đợi của Ravi Menon về món ăn, chất lượng phục vụ .... After analyzing the issue and conducting several internal reviews, I found that the issue originated from key staff changes. The waiter, who you mentioned on in the previous letter, is a new waiter. He has not been studied dùng thể chủ động skill. I think this is the first time I have had the problem dùng ý vấn đề này xảy ra this problem has happened, so I hope there will be a sympathy from you. And I will take him to train course nên dùng ý give him a course to train and I hope he will do better service in the further. On his behalf, I sincerely apologize to you.

Also, I promise you that I will try to fix our management. Because of our loosen control, our staff is hành động đã xảy ra nên dùng quá khứ đơn impolite with customers. Since then, I will reform whole our restaurant, especially as our service dùng especially + danh từ khi muốn đưa ra vấn đề chú thích cụ thể .

To be honest, I know this is a heavy mistake which cannot be accepted for restaurant business. Actually, on that day, the chef of the our restaurant did not work because he was ill, so that dùng mệnh đề chỉ kết quả với so hoặc therefore chứ không phải chỉ mục đích so that the other chef have been replaced dùng thì quá khứ đơn for him. He worked hard but did not have much experience to deal with jobs of the kitchen. I am sorry about this.

To express my apology, I have the honor of inviting would like to invite you and your family to come our restaurant for dinner at any time which is convenient to you nên cụ thể thời gian và hỏi anh ấy xem anh ấy có thể đến hay không. I will give a free dinner coupon a for you and your family enclosed this letter – it is our sincere apology and caring for you

Thank for your comments agian. I am very happy when you come back on next time. I believe that you will be pleasant with our change restaurant service and quality of food as well as the staff attitude.

Kind regards,
Lee Tran(the manager of the restaurant)
Nhìn chung, hướng giải quyết vấn đề của bạn tương đối ổn, rõ ràng về ý. Tuy nhiên, các lỗi ngữ pháp và diễn đạt của bạn chưa được tốt lắm. Cố gắng khắc phục nhé.
Điểm: 6.5