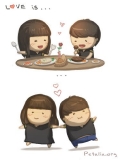 Time : 2021-10-15 20:22:56
Dear Sally,

I am happy to hear from you. Hoping you are doing well. It sounds that your job is so busy these days, but do not forget to take time for yourself and relax when you have free time. You are easily getting stressed when overworking.

Last summer is actually my great time as well. I still remember the days we picked strawberries up in your uncle's garden, riding bicycles along the river, and happy birthday to your dog, Lucy. That is amazing. I wished I could visit you this year's summer. Unfortunately, I have been on an important project of my company which lasts from April to the end of November. It is quite busy, indeed. Despite that, I still keep practicing violin in my free time as it helps me relax much more after my hard work. And I also learn how to make many kinds of cakes lately. It is quite fun. Definitely, I will make you some when we meet again.

Let's get together for coffee sometime after my project is done. As you are quite busy, just let me know what date and time are available to you from November on. I will arrange my schedule subject to you. By the way, please help me keep my books and shirts. I am going to take them when we meet up.

Miss you,

Jo
Nhận xét của giáo viên :
Dear Sally,

I am happy to hear from you. Hoping you are doing well. It sounds that your job is so busy these days, but do not forget to take time for yourself and relax when you have free time. You are easily getting stressed when overworking.

Last summer is actually my great time as well. I still remember the days when we picked strawberries up in your uncle's garden, riding chú ý tương quan thì quá khứ khi liệt kê bicycles along the river, and happy birthday to your dog, Lucy nội dung không hợp lý. That is amazing. I wished I could visit you this year's summer. Unfortunately, I have been on an important project of my company which lasts from April to the end of November. It is quite busy, indeed. Despite that, I still keep practicing violin in my free time as it helps me relax much more after my hard work. And I also learn how to make many kinds of cakes lately. It is quite funny (dùng tính từ sau tobe). Definitely, I will make you some for you when we meet again.

Let's get together for coffee sometime after my project is done. As you are quite busy, just let me know what date and time are chia động từ theo chủ ngữ ngôi thứ ba số ít available to you from November on. I will arrange my schedule subject to you . By the way, please help me keep my books and shirts. I am going to take them when we meet up.

Miss you,

Jo
Nhìn chung, bài viết của bạn cơ bản phản hồi tương đối ổn nội dung chính, song bạn cần chú ý ngữ pháp và 1 số ý không cần thiết nhé. Cố gắng hơn nữa nhé.
Điểm: 7.5