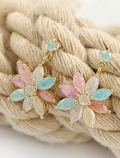 Time : 2021-10-19 23:28:31
Dear Sally, 

I am overjoyed to have received your letter. Besides, it gives me great pleasure to learn that your health is excellent and your work is good. Indeed, after reading your letter, it reminds me that last summer, we had a fantastic time. It was a lovely summer, and I will never forget it.

Just like you, my schedule is pretty hectic right now. However, I am in excellent health. I still play the violin every day. I want to share a exciting news with you. Next week, the violin class will have a competition for applicants to choose students. I am practicing very hard to win the first prize. I wish you were here to share the happiness with me.

Regarding my shirts and books, I completely forgot about my shirts and books until you wrote to inform me that they had been left at your house. Therefore, I want to receive them back. And there is nothing more exciting than to hear that you want to meet me. Hence, I will have some free time around three o'clock on Thursday, so if you are not otherwise occupied on Thursday, you are welcome to visit me at my house in the afternoon. Please don't forget to bring my shirts and books.

Thank you so much for getting in touch with me. Thank you for telling me about your current busy work. However, I hope you will arrange a time to meet me. Please write to me as soon as possible if there is something changed about our plan.

Best wishes,
Jo
Nhận xét của giáo viên :
Dear Sally,

I am overjoyed to have received your letter. Besides, it , which (dùng mệnh đề quan hệ vì không thể dùng besides liệt kê được) gives me great pleasure to learn that your health is excellent and your work is good. Indeed, after reading your letter, it reminds me that last summer, we had a fantastic time. It was a lovely summer, and I will never forget it.

Just like you, my schedule is pretty hectic right now. However, I am in excellent health. I still play the violin every day. I want to share a exciting news with you. Next week, the violin class will have a competition for applicants to choose students. I am practicing very hard to win the first prize. I wish you were here to share the happiness with me.

Regarding my shirts and books, I completely forgot about my shirts and books until you wrote to inform me that they had been left at your house. Therefore, I want to receive them back. And there is nothing more exciting than to hear that you want to meet me. Hence, I will have some free time at (giới từ chỉ thời gian) around three o'clock on Thursday, so if you are not otherwise occupied on Thursday, you are welcome to visit me at my house in the afternoon. Please don't forget to bring my shirts and books.

Thank you so much for getting in touch with me. Thank you for telling me about your current busy work. However, I hope you will arrange a time to meet me. Please write to me as soon as possible if there is something changed about our plan.

Best wishes,
Jo
Bài viết của bạn phản hồi rõ ràng thông tin thư đề bài, diễn đạt khá ổn.