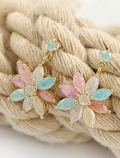 Time : 2021-10-05 23:55:00
Dear Jacky,

Thank you for writing to tell me why you could not go to the movies with me as planned. Indeed, after reading your letter, I am very worried about your health. I wonder if your leg is less painful now and the injury is dangerous. I hope your leg will gradually be able to walk again soon.

In fact, I have not seen you and Shirley for a long time and I really want to see them all. Moreover, I also want to know about you and Shirley's life and work since we graduated from university. Thus, I want to invite you to go to the movies so we can spend hours chatting together. Unfortunately, you fell off your bike and injured your ankle so you could not go to the movies with me. I am so sorry about that. I hope you will be more careful when participating in traffic on the street.

Jacky, it's nice of you to know I often tell you I have not seen Shirley in a long time, so you called Shirley to go to the movies with me. Thank you for giving us the opportunity to meet. Therefore, Shirley and I are certain that we will visit you after the movie has just ended. I tell you how exciting the movie is, therefore, I bet you are looking forward to seeing us.

Thank you for writing to me. You should rest to heal quickly. I hope we will have the opportunity to go to the movies together next time.

Yours,
Kate
Nhận xét của giáo viên :
Dear Jacky,

Thank you for writing to tell me why you could not go to the movies with me as planned. Indeed, after reading your letter, I am very worried about your health. I wonder if your leg ankle (chưa đúng thông tin) is less painful now and the injury is dangerous. I hope your leg you (bạn đi bộ chứ không dùng chân với từ walk) will gradually be able to walk again soon.

(In fact, I have not seen you and Shirley for a long time and I really want to see them you (dùng ngôi thứ 2 khi kết hợp you với ngôi thứ ba) all. Moreover, I also want to know about you dùng tính từ sở hữu and Shirley's life and work since we graduated from university. ) bạn chỉ hẹn xem phim với Jacky, nên bạn không thể gộp các thông tin liên quan đến cả Shirley vào làm nguyên nhân của việc bạn đã hẹn đi xem phim với Jacky Thus, I want hành động đã xảy ra và hoàn tất trong quá khứ nên dùng quá khứ đơn to invite you to go to the movies so we can spend hours chatting together. Unfortunately, you fell off your bike and injured broke your ankle so you could not go to the movies with me. I am so sorry about that. I hope you will be more careful when participating in traffic on the street.

Jacky, it's nice of you to be concerned about that (that + S V là mệnh đề danh ngữ) know I often tell you I have not seen Shirley in for a long time, so you called Shirley to go to the movies with me. Thank you for giving us the opportunity to meet her. Therefore, Shirley and I are certain sure that we will visit you after the movie has just ended. I tell you how exciting the movie is, therefore, I bet you are looking forward to seeing us.

Thank you for writing to me. You should rest to heal quickly. I hope we will have the opportunity to go to the movies together next time.

Yours,
Kate
Bài viết của bạn có 1 số thông tin chưa phù hợp, đặc biệt là các ý ở đoạn 2. Hơn nữa, các ý ở đoạn 3, bạn diễn đạt còn chưa rõ ràng lắm. Bạn cần cố gắng nhiều hơn để hoàn thiện bài viết nhé.