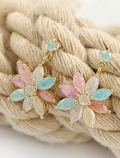 Time : 2021-07-20 22:53:31
Dear Mr. Pooja Gupta,

I received your letter talking about a small accident involving a car you rented from our company. To be honest, I really would like to know whether your health is now and whether you are injured or not. Besides, I highly appreciate your compliments about the professionalism of our company and service offered. That is the motivation for making our company work more responsibly and effectively.

Actually, according to the rule in the vehicle rental contract, you have to be responsible for the vehicle problem during your hire vehicle. Therefore, in this case, the car that you rented from our company must be fixed completely before you give it back to our company.

Regarding your request for a replacement vehicle, our company agrees to provide you with another vehicle while your current vehicle has been damaged. Therefore, you will get a replacement vehicle right at our branch in order that you can use it at this time.

Finally, I am happy to meet the legitimate needs of customers and I hope that you will continue using our company's services. Besides, I do hope you will always drive carefully and keep calm in all situations. If you have any questions, please do not hesitate to contact us. I am ready to listen to serve you.

Best regards,
Kennedy William
Nhận xét của giáo viên :
Dear Mr. Pooja Gupta,

I received your letter talking about a small accident involving a car you rented from our company. To be honest, I really would like to know whether your health is good now and whether you are injured or not. Besides, I highly appreciate your compliments about the professionalism of our company and service offered. That is the motivation for making us to make our company work more responsibly and effectively.

Actually, according to the rule in the vehicle rental contract, you have to be responsible for the vehicle problem during your hire vehicle. Therefore, in this case, the car that you rented from our company must be fixed completely before you give it back to our company. ở đoạn này, bạn nên đề cập đến nguyên nhân của vụ tai nạn là do khách quan, và hy vọng ô tô sẽ được sửa và trả lại đúng thời hạn ngày 14/3

Regarding your request for a replacement vehicle, our company agrees to provide you with another vehicle while your current vehicle has been damaged. Therefore, you will get a replacement vehicle right at our branch in order that you can use it at this time.

Finally, I am happy to meet the legitimate needs of customers and I hope that you will continue using our company's services. Besides, I do hope you will always drive carefully and keep calm in all situations. If you have any questions, please do not hesitate to contact us. I am ready to listen to serve you.

Best regards,
Kennedy William
Nhìn chung, bài viết của bạn diễn đạt tương đối tốt về cấu trúc câu, ngữ pháp. Tuy nhiên, bạn cần bổ sung ý, liên hệ giữa ý phản hồi và nội dung đề bài thì bài viết sẽ tốt hơn nhé.
Điểm: 7.5