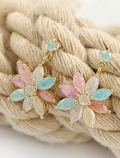 Time : 2021-02-23 23:54:56
Dear Ms. Sherin Emma,

First of all, I would like to express my sincere thanks for notifying me that you lost your identification card. In the letter, you reported in great details how you lost your identity card. As a police officer, I will help you to get a copy ID card as soon as possible

In fact, in order to obtain a copy ID card, you need to fill in an Identity Card Application form which is attached to this email and you send it back to us as soon as possible. After that, I need at least 3 days to check the information that you wrote. In case, you make mistakes about providing information in the application form, I will return your form and ask you to fill out again. However, if everything meets the requirements, you will receive an appointment letter of police. In an appointment letter of police, I will invite you to go the Police Station to receive a copy of your ID. Normally, we often take 7 working days to issue a copy your ID card and the cost of issuing the copy ID card is completely free.

Once again, thank you for writing to me. I hope that some of the above information will help you to get a copy ID. If you have any questions, you can reply to this email, I will help you. Besides, you should keep your valuable papers carefully.

Kind regards,
Riya Lucy
Nhận xét của giáo viên :
Dear Ms. Sherin Emma,

First of all, I would like to express my sincere thanks for notifying me thể hiện sự lấy làm tiếc thì phù hợp hơn that you lost your identification card. In the letter, you reported in great details how you lost your student identity card. As a police officer, I will help you to get a copy ID card as soon as possible.

In fact, in order to obtain a copy ID card, you need to fill in an Identity Card Application form which is attached to this email and you send it back to us as soon as possible. After that, I need at least 3 days to check the information that you wrote. In case, you make mistakes about providing information in the application form, I will return your form and ask you to fill out in again. However, if everything meets the requirements, you will receive an appointment letter of police. In an appointment letter of police, I will invite you to go the Police Station to receive a copy of your ID. Normally, we often take 7 working days to issue a copy your ID card and the cost of issuing the copy ID card is completely free. viết lạc đề

Once again, thank you for writing to me. I hope that some of the above information will help you to get a copy ID. If you have any questions, you can reply to this email, I will help you. Besides, you should keep your valuable papers carefully.

Kind regards,
Riya Lucy
Bạn đang triển khai ý rất tốt, song bạn lại hiểu sai nội dung thư đề bài nên những ý sau bạn viết bị lạc đề. Theo thư đề bài, Sherin Emma đang viết thư tới cảnh sát để xin chứng thực việc mất thẻ sinh viên để cho cô ấy có thể xin cấp lại ở trường đại học.Chú ý đọc kĩ đề bài để có thể phản hồi đúng hướng nhé.