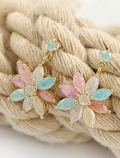 Time : 2021-01-05 21:50:46
Dear Linda Grace,

Thank you so much for your letter in which you gave me your hearty congratulations on my new baby. I really cannot believe that I just became a mother. Actually, my husband and I have been married 6 years, we do not use any contraception methods. We both really want a baby. I think that either my husband or I had been infertile. How lucky we are to have a daughter. Indeed, I have waited for this moment for a long time and finally my dream has come true. I want to thank God for giving me such an invaluable gift. In other words, becoming mother is an invaluable gift which the God gave me.

At present, I left the hospital for 3 days. My health and my daughter's health are very well. My daughter is very obedient. She feeds well, and she does not cry at night. I was allowed 2 months off by the company to take care of my baby during the maternity leave. Therefore, you can visit me and my daughter at any time when you return the country.

Once again, thank you so much for your congratulation. I hope your job will do you good. Give my love to your parents. Do take care of yourself, and write to me as soon as possible.

Yours,
Jessica

Nhận xét của giáo viên :
Dear Linda Grace,

Thank you so much for your letter in which you gave me your hearty congratulations on my new baby. I really cannot really believe that I just became dùng hiện tại hoàn thành, hành động này đã, đang và vẫn tiếp tục xảy ra a mother. Actually, my husband and I have been married f[removed]khoảng thời gian) 6 years, we do not use any contraception methods nên viết ý chúng tôi chưa có đứa con nào. We both really want a baby. I think that either my husband or I had been infertile. How lucky we are to have a daughter. Indeed, I have waited for this moment for a long time and finally my dream has come true. I want to thank God for giving me such an invaluable gift. In other words, becoming mother is an invaluable gift which the God gave me.

At present, I left the hospital for 3 days ago nên dùng từ go home thì hay hơn, đủ ý hơn là chỉ mỗi rời bệnh viện. My health and my daughter's health are very well. My daughter is very obedient. She feeds well, and she does not cry at night. I was allowed nếu dùng allow thì nên thêm động từ to have; nếu không bạn có thể dùng động từ give 2 months off by the company to take care of my baby during the maternity leave. Therefore, you can visit me and my daughter at any time when you return the country.

Once again, thank you so much for your congratulations. I hope your job will do you good nên chú ý cấu trúc để diễn đạt, your job will be successful.... Give my love to your parents. Do take care of yourself, and write to me as soon as possible.

Yours,
Jessica
Nhìn chung, bạn phản hồi rõ ràng và đầy đủ nội dung. Tuy nhiên, ở đoạn 1 bạn có ý tưởng miêu tả về niềm vui có con sau thời gian hiếm muộn là ý hay, song bạn cần bổ sung thểm sự chia sẻ về khoảnh khắc bạn đi sinh em bé (bài viết sẽ phong phú hơn).