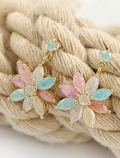 Time : 2020-12-01 23:19:16
Dear Martin Craig,

Thank you for telling me about your trip to Switzerland. I hope you will have a wonderful holiday in Switzerland which is famous for the watch world. Honestly, you touched me too much when you still remember about my hobby. Thank you very much for this meaningful gift.

Actually, after reading your letter, I feel that you are too considerate. You know my hands sweat a lot in the summer, so you chose a luxuriously styled sweat-proof watch for me. I really thank your kindness towards me. That seemingly small concern proves that you are always understanding and attentive to me. I just want to let you know that your friendship holds a special place in my heart, and so is your gift.

One again, thank you very much for this special gift, I love it. Please send it to my office at 8772 Brooklyn Boulevard, West Windsor. You can send it in working time from 8:am – 5:30:pm everyday, except afternoon Saturday and Sunday.

Yours,
Niro
Nhận xét của giáo viên :
Dear Martin Craig,

Thank you for telling me about your trip to Switzerland. I hope you will have chuyến du lịch này đã diễn ra (có từ a couple of week ago) a wonderful holiday in Switzerland which is famous for the watch world. Honestly, you touched me too much when you still remember about my hobby cần dùng mệnh đề quan hệ giải thích rõ về sở thích loại đồng hồ. Thank you very much for this meaningful gift.

Actually, after reading your letter, I feel that you are too considerate. You know my hands sweat a lot in the summer, so you chose a luxuriously styled sweat-proof watch for me. I really thank for your kindness towards me. That seemingly small concern proves that you are always understanding and attentive to me. I just want to let you know that your friendship holds dùng mệnh chủ ngữ you để nhấn mạnh đối tượng là Martin Craig a special place in my heart, and so is your gift.

One again, thank you very much for this special gift, I love it. Please send it to my office at 8772 Brooklyn Boulevard, West Windsor. You can send it in working time from 8:am – 5:30:pm everyday, except afternoon Saturday and Sunday.

Yours,
Niro
Nhìn chung, bạn giải quyết vấn đề khá rõ ràng. Tuy nhiên, có 1 vài lỗi: chưa rõ ý, ngữ pháp. Hãy chú ý làm rõ nhé.
Điểm: 7.5