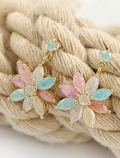 Time : 2020-09-08 20:18:10
Dear Mr. Andy Moore,

Thank you very much for your letter. I am glad to work for a company that values my employees and I especially thank you so much for your compliment. Indeed, your compliment has inspired me and motivated me to do better in my future conferences.

In fact, at the beginning of this conference, I spent all my time planning the venue as well as the topic selection to highlight the importance of this conference. Thus, I am very glad to hear my CEO also attended; moreover, he was pleased with the topic that I chose for this conference. This was really my big happiness because I could do my favourite work.

To be honest, I am pleased to know that now you also want me to do other inter-departmental events or annual company picnics. Hence, I am always willing to wait for upcoming new conferences.

Once again, thanks for your compliment. I will cherish your compliment as a sign of my professional success and achievement. I promise to try my best to do all things well whenever I am asked.

Best regards,
Jeremy

Nhận xét của giáo viên :
Dear Mr. Andy Moore,

Thank you very much for your letter. I am glad to work for a company that values my employees ý này không hợp lý nghĩa and ý này không cần thiết I especially thank you so much for your compliments. Indeed, your compliment has inspired me and motivated me to do better in my future conferences.

In fact, at the beginning of this conference nếu bạn dùng at the beginning thì cần có các ý after, then ...hay at the end, I spent all my time planning the venue as well as the topic selection to highlight the importance of this conference cần làm rõ tầm quan trọng này để giải thích nguyên nhân tại sao bạn chọn chủ đề cũng như địa điểm của hội nghị. Thus, I am very glad to hear that my CEO also attended; moreover, he was pleased with the topic that I chose for this conference. This was really my big happiness because I could do my favourite work. nên chỉ nguyên nhân là hội nghị đã thành công

To be honest, I am pleased to know that now you also want me to do other inter-departmental events or annual company picnics. Hence, I am always willing to wait for upcoming new conferences.

Once again, thanks for your compliments. I will cherish your compliment as a sign of my professional success and achievement. I promise to try my best to do all things well whenever I am asked.

Best regards,
Jeremy
Cách triển khai ý của bạn chưa thuyết phục bởi các lập luận chưa rõ ràng. Hãy cố gắng hơn nhé.